Creating Beautiful Spaces with Tile Patterns
Tile patterns have always been implemented into the home design process, but recently at Atlas Tile, we have seen an uptick in requests. As you may know, the most simple of tile patterns is a square tile placed inside of a diagonal or an offset brick joint. However, as of lately, homeowners are less likely to play it safe with tile and are choosing bolder patterns. Read on to learn about the most popular tile pattern designs available today.

Popular Tile Patterns
In particular, the Versailles pattern is very popular in a small or large format. Although, the herringbone and basket weave patterns are now being used more on floors, shower floors, and accent walls. Additionally, pinwheel or step patterns are created using two different sized tiles or a large tile and a smaller square cut out of a mosaic sheet. Moreover, hexagons are also very popular right now. And, we currently have manufacturers using multiple colors and materials to create multi-colored hexagonal patterns. Further, beautiful curved and intricate mosaics are being created using computerized waterjet machines. Interestingly, some of these are created using glass and stone. Below, you will find examples of tile pattern designs that are sure to revamp any room in the home.
A Shift in Tile Preference
Glass tiles appeared to have paved the way in using bolder colors, as well as using more interesting and complex sizes and patterns. These design ideas are growing in popularity and are now being utilized in the larger format tiles. Here at Atlas Marble & Tile, we are seeing more customers requesting the teal 3"x 10" wall tile and the Blue 12"x 24" floor tiles. Note: These are not put together in the same room.
To be honest, I believe that the strong housing market and the economy has encouraged people to be more adventurous in their tile selections. As you can see, people are not playing it safe by using bland tiles. Above all, we like to help our customers realize their vision. But, I must admit it's fun to work with more exciting colors and see our customers choosing patterns and colors.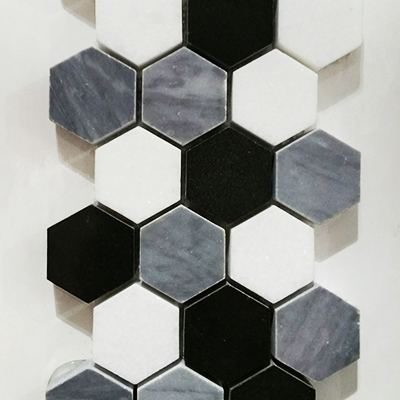 Atlas Can Help
We hope that some of our readers in the Annapolis area will decide to stop by Atlas soon! We would love to help you design a trendy, great-looking master bath, kitchen backsplash, or any additional area. However, if you are not from the Maryland area, I would ask that you sell your current house and move to the Annapolis area before stopping by Atlas. This is a beautiful area! But, with all joking aside, be bold, and realize your dreams, both in tile and in life!!!
Cheers and Happy Tiling,
John 🙂
---
Share Post via